Before I begin I have to apologise for the amount of pics in my post!  I hope you will persevere until the end :)
I was contacted a little while ago by Debbie who runs the crafty pad who asked me if I was interested in doing a tutorial using one of her clear stamps – well I jumped at the chance, but with school holidays and illness etc its taken me until now to complete.  For this tutorial I've used an adorable stamp called 'Christmas Ted bring home the tree' and this is one of the newly released stamps from the crafty pad.  Please check out their website here to see all their stunning stamps.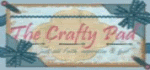 For my tutorial I used the following promarkers –
Ted – vanilla and pastel yellow
Scarf & hat – red and berry red
Tree – green and emerald (for branches) cinnamon and cocoa (for trunk)
I also used cool aqua for the snowy ground and snowflakes and ice grey 1 for the bobble on his hat
Don't forget you can click on any of the pics for a closer look (I'm sorry some of them are a little dark but it was so difficult to get a decent pic here today as it is so gloomy). 
Here is the "before" pic.  I stamped the image with a black memento ink pad.
I started by colouring Ted with my vanilla promarker.
Next I added shading with my pastel yellow.
I blended both colours together by going over the whole of Ted with the vanilla again.
Next I randomly coloured some of the tree branches with grass.
  I then added emerald to the gaps in the branches.
I then coloured Ted's hat with red.
And added shading with berry red.
Again blending the colours together by going over the whole hat with red once more.
Then I coloured the tree trunk with cinnamon.
Adding shading with cocoa.
Once again I blended them together by using the lighter colour – in this case cinnamon.
   Finally I coloured the snowy ground and snowflakes with cool aqua.
And here is my finished card.  I used doodlebug papers and a see-d's sentiment.  The snowflakes are cut out with my MS arctic snowflake punch.  The plain card is from the papermill shop. 
I've also coloured Ted in with darker colours (tan and caramel) – which do you prefer?
I hope you haven't fallen asleep by now :)  if you have any questions please do not hesitate to contact me.  Don't forget to visit the crafty pad as they have some adorable stamps available.  Thanks for stopping by today.